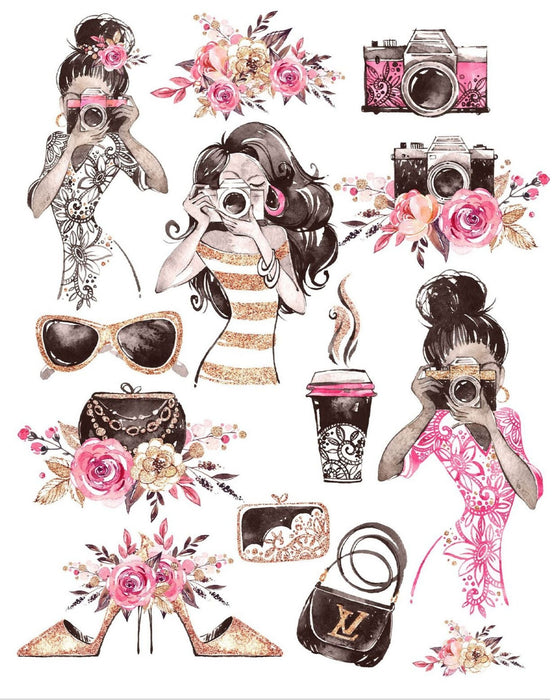 Little Birdie Deco Transfer Sheet A4-Click Perfect
Original price
$2.99
-
Original price
$2.99
Availability:
in stock, ready to be shipped
Elevate your crafting projects with the exquisite Click Perfect Deco Transfer Sheet from Little Birdie. This A4-sized sheet boasts a captivating vintage-inspired design, seamlessly blending old-world charm with a modern twist. It's the perfect embellishment for a wide range of creative endeavors. Vintage Elegance: The Click Perfect Deco Transfer Sheet features a stunning design reminiscent of yesteryears. With elements like vintage cameras, keys, and intricate patterns, it brings a touch of nostalgia and elegance to your projects. Effortless Application: Applying the transfer sheet is a breeze. Simply cut out your desired design, remove the protective backing, and carefully place it onto your chosen surface. Gently rub to transfer the design, and watch as your project comes to life. Versatile Medium: The transfer sheet adheres to various surfaces including wood, fabric, paper, and more. Use it to enhance furniture, home decor items, handmade cards, scrapbook layouts, and an array of creative projects. Craft with Timeless Charm: Whether you're a seasoned crafter or just starting out, the Click Perfect Deco Transfer Sheet is a versatile tool that instantly elevates your creations. Its intricate design and ease of application make it a must-have for any crafting enthusiast.
Delivery time
Items will be dispatched within 1-3 working days.