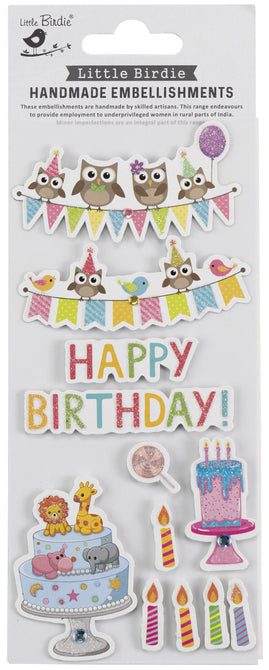 Little Birdie 3D Glitter Embellishment 12/Pkg-Birthday Celebration
Original price
$2.99
-
Original price
$2.99
Availability:
in stock, ready to be shipped
Get ready to sparkle and celebrate with the Little Birdie 3D Glitter Embellishment 12/Pkg Birthday Celebration! These glamorous self-adhesive embellishments are designed to elevate your paper crafting projects and make every birthday extra special. Whether you're creating birthday cards, party invitations, or decorations, these dazzling embellishments will add a touch of shimmer and joy to your creations. Glittery birthday bliss: These self-adhesive embellishments feature birthday-themed designs with a dazzling touch of glitter, adding a celebratory and luxurious look to your projects. Effortless application: Simply peel and stick for quick and easy embellishment. These user-friendly embellishments save you time and allow you to focus on your creative flow. Versatile usage: Use these Little Birdie Birthday Celebration embellishments in various paper crafting projects, including birthday cards, gift tags, party decorations, and more. Let your imagination run wild and create stunning designs that celebrate the joy of birthdays. Set of 12: Each pack contains 12 delightful birthday celebration embellishments, providing you with ample options to adorn multiple projects and make every birthday a dazzling affair.
Delivery time
Items will be dispatched within 1-3 working days.