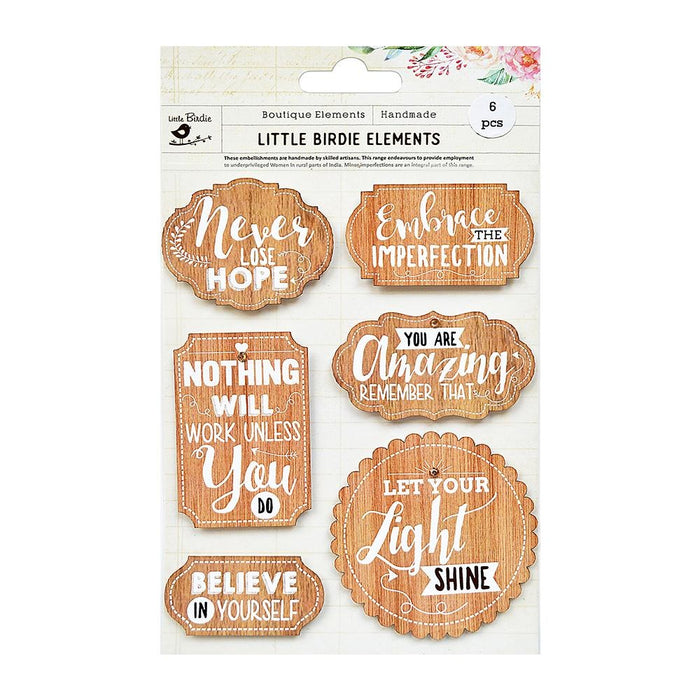 Wooden Bark Banner Embellishment 6/Pkg Believe in Yourself
Original price
$2.27
-
Original price
$2.27
Availability:
in stock, ready to be shipped
Elevate your paper crafting and DIY projects with the Little Birdie Wooden Bark Banner Embellishment 6/Pkg Believe in Yourself! These handcrafted wooden banners are designed to inspire and add a rustic charm to your paper crafting and DIY projects. With six unique banners in each pack, you'll have the perfect elements to infuse your creations with a positive and uplifting message. Inspirational Charm: These wooden bark banners feature the empowering phrase "Believe in Yourself," perfect for adding motivation and positivity to your creative projects. Rustic Appeal: Crafted from natural wood bark, these embellishments bring a rustic and organic touch to your crafts, enhancing their uniqueness and charm. Versatile Usage: Whether you're working on scrapbook layouts, cards, home decor projects, tags, mixed media, or any other creative project, these Believe in Yourself banners will serve as a heartfelt reminder of self-belief. Set of 6: Each pack contains six wooden bark banners, each one beautifully unique, allowing you to spread the message of self-confidence throughout your projects.
Delivery time
Items will be dispatched within 1-3 working days.